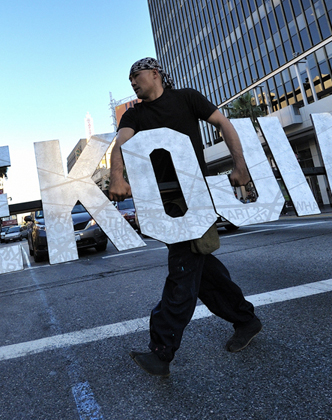 Director: Koji Iijima
Born in 1973. Has been writing graffiti from his teenage years. Started to work as a contemporary artist after graduating Musashino Art University. In 1999, selected as a trainee for the domestic fellowship program by the Agency for the Cultural Affairs, and worked as an intern in the Musashino Art University. From 2000 to 2006, worked in the sculpture laboratory of the university as a lecturer and a research associate. Opened an art gallery "Garou-Garou" in his hometown, China Town in Yokohama. Moved to Los Angeles. Holds exhibitions of iron sculpture with motors, engines, or gas burners built-in and other performances in various places.Moved back to Japan in 2011. Exhibited in Gwangju Biennale 2004 (Korea) and the 2nd Earth Art Festival (Mexico). Became six weeks champion for " The Art Battle" in a TV program "Takeshi-no-Dare-demo-Picasso (You Can Be a Picasso, hosted by Takeshi Kitano)" (TV Tokyo Corporation). Beside activities as an artist, directing the C.A.J. Artists in Residence Program as a commissioner of NPO. Contemporary Art Japan.
Also a professional kick boxer in Japan and a pro cage fighter in the U.S..